NEW MEDIUM WEIGHT HIGH VOLTAGE POWER SUPPLY
HIGH VOLTAGE TRANSFORMERS
HIGH VOLTAGE RECTIFIERS
HIGH VOLTAGE CAPACITORS
by Dominique - F1FRV
* Original file: year 2005 *
* June 2009 : added explanations about "equalisation", and HV load *
* October/november 2015 New design with UI transformer *
* March / april 2016 Update & Pre-drilled 4U racks availables *
* November 2016 New wiring arrangement for UI transformers *
* March 2017 added simple & low cost high voltages probes in the downloads *
&
Cette nouvelle alimentation haute tension " légère " est construite avec un transformateur " UI ",
et peut être réalisée dans un coffret 19 pouces 4 U. Légère (~ 30 à 40 kg suivant puissance) est bien sûr relatif,
surtout si comparée aux précédentes alims HT (~110 kg) faites pour 1 ampli de 5 kW ou 2 amplis de 2.5 kW.
Voir photos ici, ici, ici, ici & ici.
Toutes les parties sous haute tension doivent être installées avec des supports isolants, > 25 mm de la masse.
Pour une meilleure compréhension, la description est divisée en plusieur parties.
Toutes les informations nécéssaires à la réalisation sont dans les fichiers à télécharger.
---------
This new "medium weight" power supply is build around an " UI " transformer, and can fit into a 19" 4 U rack.
Medium weight (~ 30 to 40 kg, depending of power) means: less than previouly made supplies (~110 kg) for 1 x 5 kW
or 2 x 2.5 kW amplifiers. See pics here, here, here, here & here.
All HV parts shall be installed with insulating posts, at safe distance of ground (> 25 mm / > 1").
Description made in different parts for easier understanding. All necessary information are in the downloads.
19" Rack 4U
Toleries livrées brutes
Après peinture en bleu gentiane (RAL 5010)
Des boitiers rack 4U pré-percés sont disponibles. Info ici.
Pre-drilled cabinets rack 4U are availables. Info here.
Self adhesive laser engraved labels "Gravoply" are delivered with 4U rack.
Mains power & soft start Rev1
Heavy industrial contactors are replaced by small & low cost 25 Amps power relays.
Nota: For more than 2 kVA, use industrial contactors. See here and here (in french).
Les contacteurs industriels sont remplacés par de petits relais de puissance 25 A.
Nota: Pour plus de 2 kVA, employer des contacteurs industriels. Voir ici et ici en français.
The power command circuit, on mains supply MUST be "fugitive"
with push buttons and auto maintain loop on mains power relay.
3 modèles différents, suivant vos besoins de puissance et tensions.
Les transfos sont conçus pour être éventuellement utilisés avec des groupes electrogènes mal régulés.
Toutes les informations techniques et prix sont dans les téléchargements.
---------
There are 3 different types, depending on which power & voltages you need.
All transformers are designed to be eventualy used with badly regulating power generators.
All technical information & prices are in the downloads.
--------
Safety & trip board
No major changes regarding previous revisions.
Pas de changements importants par rapport à la version précédente.
Relay is used to trip the mains supply if voltage or current spikes occurs.
Q1, Q2, Q3 can be any low cost VMOS or MOSFET able to switch 0.1 Amp
Safety current measuring device is now a Hall sensor.
La mesure du courant pour les sécurités est maintenant avec un capteur Hall.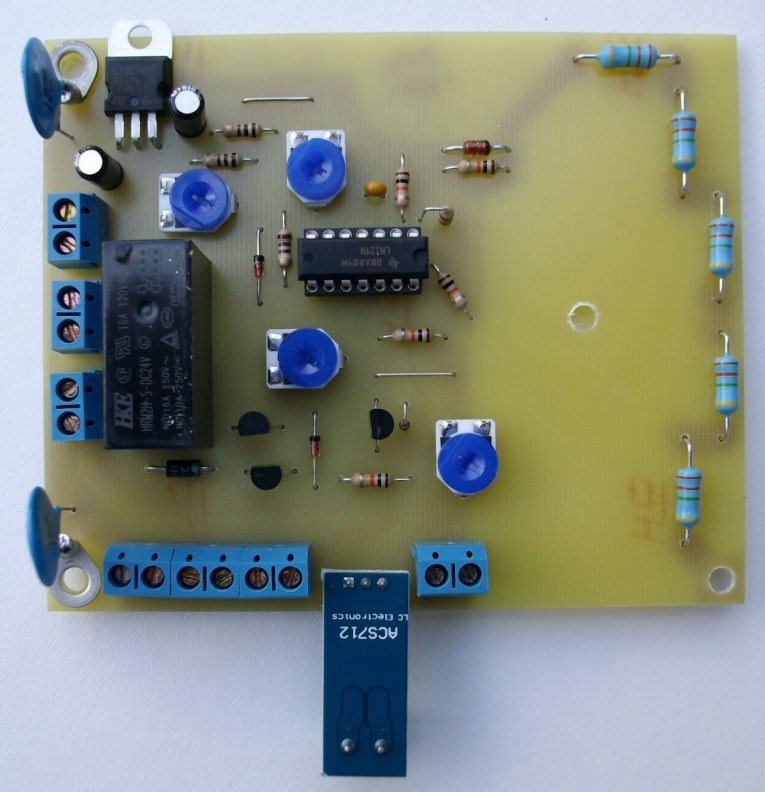 SAFETY DISTANCE >25 mm (>1") BETWEEN GROUND AND ALL HIGH VOLTAGE PARTS
All values are given as practical working example.
Adapt the values of resistors and voltages to your need.
High voltage resistors for HV divider are SFERNICE or PHILIPS type VR37 (3.5 kV - 0.4 W).
They are NOT expansive (even if they are sold by 10 units). It is useful to have some in junkbox
if you want to make high voltage divider for other applications.
Capacitors bank
Les condensateurs HT papier/huile devenant durs à trouver, sont remplacés par des chimiques 450 V.
2 versions sont disponibles. Une avec 12 capas de 450 V (5400 V) pour tension de service maxi 4600 V,
et une avec 10 capas de 450 V (4500 V) pour tension de service maxi 3800 V.
Choisissez en fonction de votre tension maxi (tenez compte des pics possibles de tension secteur)
Les résistances d'égalisation servent aussi pour la décharge. Un petit ventilateur est nécéssaire.
---------
Hard to find HV paper/oil capacitors are replaced by 450 V standard electrolytics.
2 different versions are available. One with 12 x 450 V capacitors (5400 V) for safe use up-to 4600 V,
and one with 10 x 450 V capacitors (4500 V) for safe use up-to 3800 V.
Select which one you need, depending on your max voltage (dont forget accidental 230 V surge spikes).
Equalising resistors are also used as bleeder to discharge capacitors. A small fan is needed to cool down.
Rectifiers bridge
Les diodes 10A07, 10A@1000V & 600A crête,disponibles depuis peu, et les "vieilles" P600M
6A@1000V & 400A crête sont maintenant les meilleurs choix techniques et économiques pour des
amplis de 1.5 à >5 kW. (~15 Euros pour 20 pièces). Les 10A07 sont disponibles chez RADIOSPARES
(Voir aussi FARNELL pour les P600M). Les résistances de limitation de courant de court circuit et
les fusibles de protection haute tension sont maintenant inclus sur la platine.
---------
The newly available 10A07, 10A@1000V & 600A surge, and "old" P600M 6A@1000V & 400A surge
are now the best technical and economical choice, for 1.5 kW to >5 kW amplifiers.
(~15 Euros for 20 units) 10A07 are available at RADIOSPARES (see also FARNELL for P600M).
HV short circuit current limiting resistors and fuses are now included on this board.
Use only "F" or "FF" fuses, the price difference is the price of the safety you accept to pay...
Simulation with PSUD2 / Simulation avec PSUD2
You can simulate and predict acurately the results of your power supply (no load, under load, ripple),
in using the excellent freeware PSUD2 available in the links page.
As you can see, for 1 Amp HV current, peak current into transformer & rectifiers is ~7 Amps.
Low cost home made HV probes
For / pour information
Download 4U rack data : HV 4U RACK F1FRV.ZIP
Download transformers data : HV UI TRANSFORMERS.ZIP
Download 230 VAC soft start datasheets, and files for PCB: 230 VAC Soft Start.zip
Download rectifiers datasheets, and files for PCB: HV RECT BRIDGE F1FRV.ZIP
Download capacitors datasheets, and files for PCB: HV CAPACITORS BANK F1FRV.ZIP
Download Safety & Trip Board datasheets, and files for PCB: SAFETY & TRIP.ZIP
Internal link to F1FRV HUGE 5 kW HV supply
Power supply tests under load example by Alex UX5IW
Download power supply measurement simples HV probes
Internal link to F1FRV TRIODE BOARDS
Internal link to GS-35b DECAMETRIC AMPLIFIER KIT
See Safety necessary equipments.
Noubliez pas que: La HAUTE TENSION est MORTELLE !!!
To enjoy, dont forget that: HIGH VOLTAGE can KILL !!!
Dominique - f1frv@sfr.fr
OR